Hunter Walk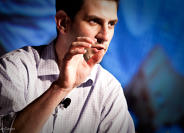 Hunter Walk
Hunter Walk focuses on YouTube as a platform for social good, learning and free expression. He views YouTube's relationship with "good" as supported by three main pillars: Causes & Non Profits; Education; and, finally, Activism and Free Expression. He previously led consumer product management at YouTube, delivering billions of playbacks a day to the world's largest video community. Since joining Google in 2003, he has also managed product and sales efforts for Google's contextual advertising business.
Prior to this, Walk was a founding member of the product and marketing team at Linden Lab. Earlier, he was a management consultant and also spent a year at Late Night with Conan O'Brien, broadcasting to an audience of insomniacs, truckers, and college students.
Hunter has a B.A. in History from Vassar and an MBA from Stanford University.