Donald Trump and his tweeting team count truth as a low priority, and yet many people believe every word because he's the President Elect. What can be done? Not much other than educating people to be more skeptical. But that doesn't make the Washington Post's new "RealDonaldContext" browser plug-in any less awesome, even it it will only be used by people who are already skeptical enough to install it. In fact, this kind of delivery could be the future of news.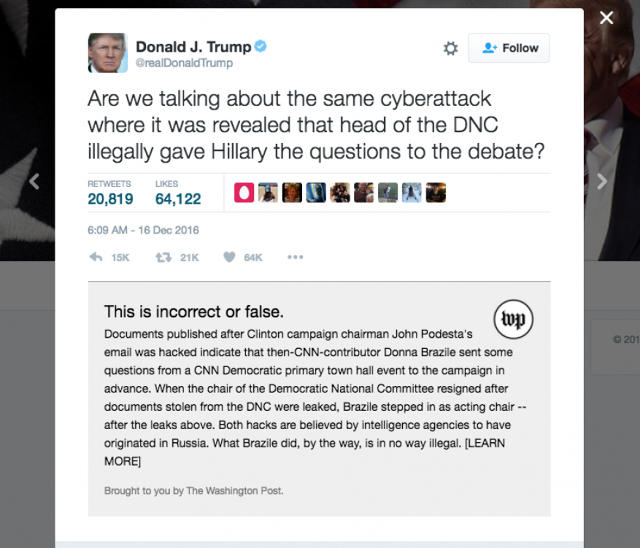 The plugin adds context to Trump's tweets by inserting a box underneath the tweet with more information. Trump often tweets plain lies, or misleads readers by tweeting just a small part of a bigger story. The plugin points out these lies and misdirections, by either giving the reader the true story, or by adding the essential background that shows how selective Trump is being with the facts: Here's the description from Post reporter and plugin writer Philip Bump:
Donald Trump's primary means of communicating with the public is his Twitter account. Unfortunately, his tweets aren't always entirely accurate, by mistake or by design.
The Washington Post's Fix team has decided to help ensure that the public receives the most accurate possible information by creating this extension, which will add more context or corrections to things that Trump tweets.
The plugin, for Firefox and Chrome, relies on humans to do the debunking, so the explanations can lag a little when Trump is in the midst of a tweet-storm. It also means that info can be added as needed, simply giving the reader extra information about a subject. Readers can also request more information about a particular Trump tweet.
As a tool to reduce mass ignorance, this is almost useless. Trump supporters are unlikely to install such a thing. For anyone else, though, it's a great way to see just how loose the new President is with the truth, and to gather information to use in real world arguments.
But most of all the RealDonaldContext plugin is a whole new way of delivering news. Stripped of the fluff needed to justify published a full article, this is pure info, and right there in context where you need it. Imagine such a thing applied to the entire internet, or at least to major news stories. What if you could add plugins from your favorite source—The New York Times, the Guardian, the BBC—and have almost-live news coverage right there in Twitter or Facebook, where you actually discover the news. People might even be willing to pay for such a thing.