When News Deeply founder Lara Setrakian was posted in Dubai as a correspondent for ABC News, she saw pundit Thomas Friedman give his popular speech presenting a five-step plan for success in the globalized "world-is-flat" economy. The first step, he said, is to "think like an immigrant."

It's a suggestion that rang especially true for Setrakian, a first-generation Armenian-American whose parents came to America as refugees from the Lebanese civil war, and whose father passed the bar exam when he could barely speak English. "Immigrants are used to being scrappy," she says. "I was in tune with the culture of another place, constantly interwoven. It was a Thanksgiving turkey-and-hummus sort of upbringing." But, she admits, "It's not easy. When you bring funny food to school in your lunchbox, you're not thinking it's an advantage. When you've got a long and funky last name? I never thought my last name would fly in television."
But fly it did. And now, the combination of her immigrant upbringing and her professional expat career (as a reporter stationed in the Middle East for both ABC and Bloomberg Television) has led to exactly the kind of success Friedman might cheer: In December 2012, Setrakian launched Syria Deeply, a single-topic news site that's changing both the way journalists cover a global crisis and the way the global news audience receives information. It's also just the first in what Setrakian hopes is a series of "Deeply" sites to come, tackling everything from Congo to the war on drugs.

Setrakian says she was "amazed" by the news as a kid. "I was in love with Peter Jennings," she remembers. "I loved watching pieces on other parts of the world. When you grow up ethnic-American, you always imagine that you could have been the person in the picture, you know? I really empathized."
That empathy led to what she calls "a sense of social justice," so she graduated from Harvard with a degree in government, then got a job working as a consultant for McKinsey & Company. It wasn't the journalism career that she'd imagined—and it wasn't her "long and funky" last name holding her back. "I was a little scared of going into media," she confesses. "It was unpredictable, it was shrinking, it wasn't the safe career route, my parents didn't like it. They came here to give me the life of stability and prosperity that every immigrant wants for their child." She laughs. "And I had to go run around war zones."

To be fair, Setrakian entered her first war zone thanks only to the most terrifying of coincidences: McKinsey sent her to Jordan, and in 2005, she traveled from there to Lebanon, just in time to be "right next to" the bomb that killed former Lebanese prime minister Rafiq Al-Hariri in Beirut that February. Bearing witness to an explosion that kills 21 people is bound to make most anyone rethink their choices, and Setrakian was no different—except that unlike most people, she found herself drawn towards the danger. "That was my wakeup call," she says. "The right place at the right time, in the wrong job."
Setrakian soon left McKinsey to take a job at ABC News, where she cut her teeth on the Duke University lacrosse team scandal before being offered a job covering Iran. "The original assignment was to go live in Tehran," Setrakian says. "My parents freaked out. I said yes anyway." It was there she first witnessed the power of niche journalism by blogging regularly about everything from anorexia in Arabia to the inner battles of the PLO. "[ABC] gave me the space to nerd out," she says, "and I found myself sending that to a niche of people that were really psyched to be getting that level of detail and color, consistently. And then came Twitter, which I started using a little bit before the Iran election crisis. And suddenly, I had a place to put all my B-sides, all the material that was on the cutting room floor."
While her audience didn't have the scale of the nightly news, Setrakian says that never bothered her. "I'm very satisfied serving the niche," she says. "I love the niche. Let me live in the long tail the rest of my days. I felt only abundance, not scarcity."
She simultaneously began to recognize what she calls a "fundamental deficit in how we cover the world as an American press pool," as news organizations closed foreign bureaus and declined to send correspondents to the Middle East, despite its obvious importance. "In the days of Jennings, we never would have closed our bureaus in Beirut. We've all come to accept that we're not as present as we used to be, collectively," she says. "When I landed in Dubai [in 2007], I was the only full time network correspondent focused on Iran. And that was surprising, because Iran is a pretty big story." And yet, in conversations with colleagues, she would find herself being the voice of opportunity, rather than doom. "I see it as dire but not dour," she explains. "Here's the upshot—we're in an age where we can communicate with people in these parts of the world. And by and large, if you rally the right contributors, you can start to hear from the people in the theater more, telling their own story. People in country. People relevant. Maybe we haven't seen the upside to trying it a different way, you know?"

The crisis in Syria was chosen as the first News Deeply focus because, as Setrakian puts it, "I'd never seen a story that had such a high degree of importance and such a low degree of understanding."
Although it's still in beta, the 50% return rate for visitors to the site proves to Setrakian that her mashup of niche journalism and boots-on-the-ground access is a potent mix, and the most heavily-visited area of the site is called the Syria Files, a central section featuring basic introductory information on the region, the crisis, and the players. "It's pretty amazing," Setrakian says. "I came from a world where I would sit there and argue, 'Can we please do a backgrounder on Hezbollah?' Where is there room in a 22-minute broadcast for a backgrounder on Hezbollah? It only makes sense that people are thirsty for knowledge. We just accept that we live in a not very well-informed society. We don't have to, you know? If people came to our site and understood who is who in the Syria crisis, what they watch on the evening news is gonna be a lot more interesting. This is more of a plug-in than a disruption."

The News Deeply team is also committed to bringing the next generation up to speed—they've put together classroom courseware on Syria for social studies teachers that's been downloaded 6,000 times—and to ensuring that global stories continue to be told by on-site journalists who are fairly compensated. They've earned their first seed round of funding—note that's "earned," not "raised"—by partnering with clients like the World Economic Forum, and Setrakian says they plan to move to also develop software, like a policy crowdsourcing tool they're developing with the Baker Institute at Rice University. "The news business may be down, but the insight industry is booming," Setrakian says. "Everything from think tanks to international organizations haven't even started to go digital. Our dream is to have the technology pay for the journalism, kind of like the Bloomberg terminal."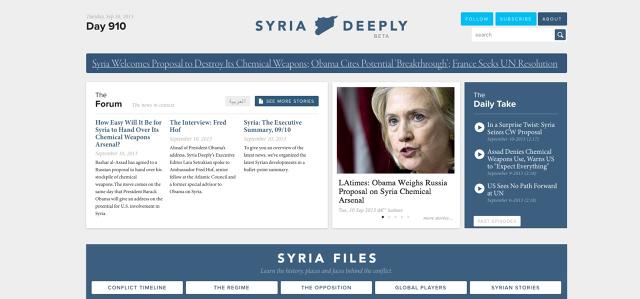 When Syria Deeply comes out of beta at the end of the year, readers can expect a complete design overhaul as well as a community layer designed to capture conversation and drive dialogue. Meanwhile, Setrakian and her team are hard at work researching what they'll tackle next. (Front-runners include Myanmar and Oceans Deeply.)
"We're figuring out, where is news needed right now?" says Setrakian. "What are the conflict zones? Where is the deficit? Where is the market failure, where can we deliver something, and then how do we build community around that?" Regardless of future topics, Setrakian says, the sites will maintain what she calls an "outcome neutral" stance, one she hopes will allow readers to draw their own conclusions. "We are not an activist group," she maintains. "We are not a campaign. But do informed citizens make better decisions about the world? I think so. It's up to them what they do with it."

Setrakian is not, however, outcome neutral about her decision to leave behind the grand tradition of broadcast news, her first love, to plunge into the murky waters of reinventing digital journalism. "To this day," Setrakian says, "the piece of my story that gets the most insta-reaction is, 'You left a job that people would kill for in television to start a website?' Yeah," she laughs. "Yes I did. In a very competitive industry where you're judged by your minutes on TV, I wanted to judge my life on what I created. I see it more as myself getting into a time machine to the future of news than giving up my TV job for a website."