A tornado has ravaged a city in Oklahoma. Homes are destroyed, schools have been flattened, and debris is strewn across the roads. A damage report will take a while—someone has to fly a plane over the disaster, take a slew of images, download them to a hard drive, and wait three weeks or so for an analyst to scrutinize everything.
That's probably not too far off from what has happened in past Oklahoma tornadoes, but it's not what occurred after a monster tornado hit Moore, Oklahoma, this past May. Just an hour after satellite imagery was collected, the city had an accurate count of all the damaged buildings in its hands. For that, Moore can thank DigitalGlobe, a company that owns five commercial satellites. Every time you go to Google Earth, you're looking at DigitalGlobe's imagery.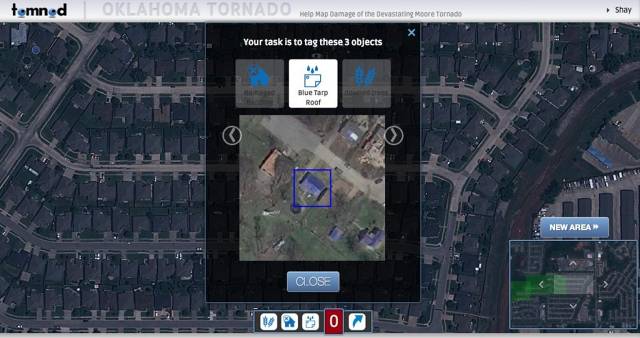 In April, DigitalGlobe acquired a company called Tomnod, which pioneered a crowdsourcing system that makes it easy for large groups of people to extract data from DigitalGlobe's satellite images. "We have a lot of imagery, but what's going on inside that imagery, and how do you analyze it? Instead of training machines to identify damaged houses, we use humans," explains Shay Har-Noy, the director of research and development at DigitalGlobe.
Whenever there's a disaster anywhere in the world, DigitalGlobe deploys satellites to capture images. But the Moore tornado was one of the first tests of Tomnod's crowdsourcing system post-acquisition.
Immediately after the disaster, DigitalGlobe put a call out on social media channels for volunteers to analyze the damage. Anyone who accepted the challenge was asked to identify fallen trees, destroyed buildings, and tarped roofs within a small chunk of land (the disaster area was automatically divided up among volunteers). A statistical reliability algorithm weeded out unreliable users, producing a relatively accurate analysis. After an hour, DigitalGlobe had 15,000 points of interest identified, along with a detailed damage assessment map.
There are some disaster situations where crowdsourcing doesn't make sense. "We've had fires recently that have taken over a lot of national forest [land]. It's terrible, but there's not much that a crowd can do. As far as analysis, it's fairly easy to draw a perimeter around a fire. But if it's going to a populated area, then we can extract the precise damage count of buildings," says Har-Noy. So in Colorado's recent Black Forest fire, which destroyed hundreds of homes, DigitalGlobe was able to help. When I spoke to Har-Noy, he said that the company had just deployed satellites to take pictures of the wildfire currently moving through Arizona—and encroaching upon civilization.
Want to help out? Join the Tomnod crowdsourcing team here.