Jim Garrison is a busy man. Just before Christmas, his architecture firm got a call from New York City officials asking if he could design and build nearly 50 lifeguard stations and other beach structures to replace the ones wiped out by Sandy. The one catch: The new units needed to open to the public in five months, on Memorial Day weekend, the symbolic start to summer.
Since then, "it's been a wild ride," Garrison told me over the phone on Tuesday. After 40 days worth of 16-hour planning sessions, Garrison Architects emerged with a plan to introduce net-zero energy, flood-resistant, modular structures along the beaches of Coney Island, Staten Island, and Rockaway Beach. He says his designs are not only economical and aesthetically interesting— but could help lay new groundwork for the way that cities respond to climate change-related disasters in the future, by relying on quick-to-install modular structures that serve as the foundation for the reconstruction of whole neighborhoods (as opposed to throwaway, temporary trailers).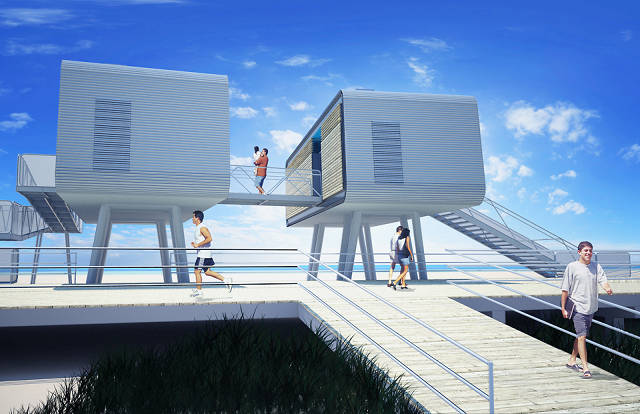 He says the initiative is the first time he can think of that any American city is "confronting the reality of starting to build infrastructure that can deal with these enormous storms and can live beyond them."
Garrison's designs for new lifeguard stations, comfort stations, and beach offices include a number of features that make them both flood-resistant and sustainable: they're elevated above the new FEMA storm surge numbers, and they rely on photovoltaics, solar hot water heating, and skylight ventilators as part of a net-zero energy system. The wood siding was salvaged from boardwalks wiped out by Sandy.
The project also involves relandscaping the beaches, reintroducing dunes in certain places to help protect the shore, and eliminating boardwalks. "The waves basically just roll under [boardwalks] and sometimes take them away with them," Garrison says.
The new structures will be constructed in a factory offsite, and later installed into site-specific support structures and access ramps on the beaches. According to a briefing by Garrison's firm, "New York has only a handful of modular buildings, such as low-income trailer housing or modular classrooms, most of which essentially qualify as manufactured boxes on chassis, not unique designs. Our modules are a premier example of cutting edge modular building practices and sustainable design solutions for the future."
What's perhaps more impressive than the speed of the design is the way the city's bureaucracy got out of the way to let the project unfold under tight deadlines. "I've never seen anything like it on [the city's] part," Garrison says (and he's been designing buildings in New York for more than three decades).
Garrison hopes that the project serves as a model for disaster rebuilding efforts in the future, when it's possible that Sandy-strength storms will be the norm. "Next time it hits, can we mobilize [modular design] as disaster housing? And I mean good stuff—not FEMA trailers that make people sick, stuff people can really live in for the long term?" Garrison wonders. "This is a way to build in an era of congestion, ecological challenges, and the need for permanence."