The past few years have been undeniably depressing for anyone interested in clean energy; Solyndra was the most well-publicized failure, but it was hardly the only one. One of the only bright spots has been in the home solar industry, where solar leasing companies like SolarCity and SunRun have convinced homeowners that they can save money on their electric bills (and feel good about themselves) by leasing home solar arrays for a low monthly cost. In California, two thirds of new home solar systems are leased, compared to 93% purchased in 1997.
Kiwi, a San Francisco-based solar startup wants to make a dent in the trend by convincing homeowners that it's worth it to buy a photovoltaic system and part with their many thousands of dollars. The hope: that convenience and good marketing are enough to get them to do it.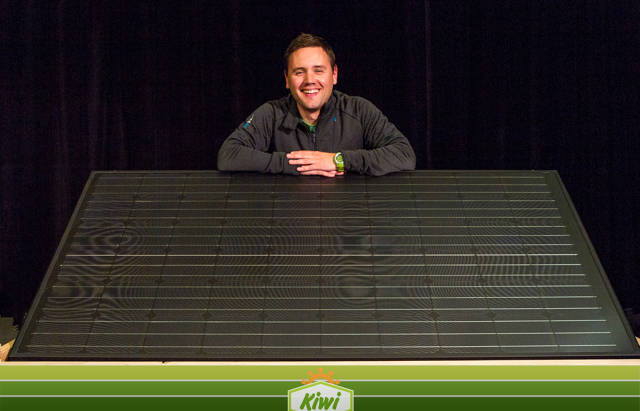 Kiwi CEO Nick Yecke has been working in solar since 2009, when he founded a business-to-business solar company called PVPower. Since then, he has watched the price of solar panels drop precipitously. "In the past, a solar lease was the only way a homeowner could effectively get into solar without spending $50,000 to $60,000. That's completely changed," he says. "We hit a tipping point 8 or 9 months ago where it makes more sense to own versus lease a home solar system." So Kiwi is using the same supply chain as PVPower but turning its attention towards a consumer-facing brand.
Kiwi is banking on the success of the JuiceBox, a cleverly named all-in-one solar package for homeowners. Buy one (average price: $18,000) and you can expect to receive an array of solar panels and components, free installation, paperwork and permits, every rebate and tax incentive that you qualify for, a 25-year warranty, financing, and the advice of a "JuiceBox Solar Expert." Kiwi doesn't deal directly with products or labor; it's simply a virtual solar retailer.
It's an experience that Yecke hopes is both "simple and high value"— packaging high-quality products together, shipping direct to homeowners, getting local installers out to do the job in a day, and offering better financing options than solar leasing competitors. "We open up the market to people down to a 640 credit score. In the case of a lease, the floor is 680 to 700 and a lot of people who want to go solar aren't able to today," says Yecke. And while solar leasing companies take advantage of tax incentives to finance projects, Kiwi lets consumers benefit from all available incentives.
Kiwi just finished going through the Greenstart startup accelerator, where it completed a transition from a business-to-business startup into a business-to-consumer company. The JuiceBox is currently available in Colorado, which Yecke believes has a more mature solar market than many other places. But Kiwi is already looking to expand elsewhere—a process that will go much smoother if the company raises the $500,000 it's looking for.
"We want to get out of the world of stodgy solar and into something that's a much more approachable, exciting brand," says Yecke.