People have been using markers to design their own custom sneakers for as long as, well, probably as long as people have had access to markers and sneakers. But it takes an innovative eye to transfer that boredom-fueled activity into a global brand, not to mention generate a creative space for other artists in the process. Aaron Firestein and Raaja Nemani have done just that by launching Bucketfeet, a canvas shoe company that sources its designs from street artists around the world, then pays those artists royalties on every shoe sale.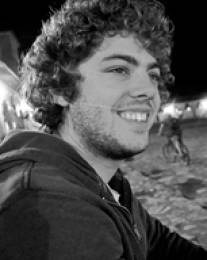 Firestein, a University of Oregon grad, started customizing kicks back in college, buying Vans in bulk from a local sneaker store, using Facebook to spread his designs, and eventually selling them to friends. After graduation, he bought a one-way ticket and brought his massive Sharpie collection to Argentina, hoping to learn Spanish. Instead, he met Nemani, an economics major who had also bought a one-way ticket to town. "We actually met volunteering with kids, in a slum outside of the city," says Firestein. "Raaja was traveling after quitting his banking job, and we quickly hit it off. I told him about this shoe-designing project that I had going, and I sold him a pair of Chuck Taylors that I'd customized." A year and a half later, Nemani was working in private equity in Abu Dhabi, and inspiration struck. "I wanted to start something, and this was a product that I was extremely passionate about," Nemani says. "Aaron, an American that went to Argentina, was selling products to people all over the world. You don't see a lot of people who customize shoes for fun get that type of response." He pitched his business idea to Aaron, and together, over Skype and email and across thousands of miles, they came up with a plan.
The friends named the company Bucketfeet ("Bucket" was Firestein's college nickname), and in May of 2010, Nemani moved to Chicago to work full time on launching the company. Meanwhile, Firestein stayed in South America, and found himself immersed in Brazil's flourishing street-art scene. He started photographing artists from the favelas alongside their work, and exhibited the prints in an upscale Rio de Janeiro gallery, quickly realizing that there was a whole world of talent just waiting to be discovered. "Even before Raaja approached me, starting an umbrella company that had other artists underneath it was something I wanted to do down the road," Firestein says. "There's nothing cooler to an artist, from what I've seen, than having your own signature shoe out. It's an opportunity most people won't want to pass up."
Bucketfeet launched in February of 2011, and their website now features designs from Firestein and 19 other artists from locations as far-flung as London and Lagos. Each contributor is paid $250 for their design, and receives a royalty of one dollar for each shoe sold. While the royalties might not yet add up to a fortune, Firestein says you can't beat the exposure. "There are a lot of people in the U.S. that have become big fans of these artists that otherwise would not have known about them," he says, and Nemani agrees. "In the grand scheme of things, it isn't necessarily a huge commitment up front. But when you think about the platform that we've created, we actually do think we have one of the more significant give-back programs for consumer brands today, from a personal perspective. As one of our Brazilian artists said, 'The coolest thing that I can imagine is somebody in Tokyo is walking around with a pair of shoes with my art on it.'"
On the flip side, Bucketfeet is also currently featuring a limited-edition run of sneakers from design superstar Scott Wilson, best known for the iPod Nano wristwatch that blew up Kickstarter in 2010. Wilson's design is a red and black pattern called "Skulz," created by his newest Kickstarter sensation, the LunaTik touch pen and stylus. Nemani met Wilson through a mutual friend, and says that while he's become something of an "unofficial advisor" to Bucketfeet, they never imagined he'd want to contribute a design. Now, Nemani says, Wilson's involvement cements the Bucketfeet mission: "Focusing on the best," he says. "We're not saying that we need to work with somebody that's super poor or super rich, or super famous or super unknown. It's really this idea that we want to curate the best possible artists."
Thanks to where their partnership was born, Firestein and Nemani have one other mission, albeit a quieter one: A portion of each shoe sale is donated to children's charities handpicked by the pair. "Aaron and I met volunteering in the slums of Argentina," Nemani says. "It was the most serendipitous of meetings we could imagine. And we said to ourselves, if we ever do something and it becomes successful, it's only right to give back. This is much more of a personal thing to us, it really has very little to do with business. There's a lot of one-for-one organizations popping up after the success of Toms, but that's not always what everyone needs. We try to have a very hands-on approach when talking to these partners, just figuring out, you know, if we can do something, what can we do? How can we give back?"
The only downside to Bucketfeet's success may be the dust collecting on Firestein's Sharpie collection. "I get people all the time asking me for custom shoes, I just don't have time for it these days," he admits. "When you're one half of a business and you're trying to help the thing grow, it's a busy life. I really want to keep the focus on these other artists, especially since I already have so many designs out there.
"But," he says, "I'm always thinking of stuff."
This piece is part of Change Generation, our series on young, change-making entrepreneurs. Read the rest here.