Occupy Wall Street might have gone mostly dormant for the winter, but some of the agitators behind the movement's biggest actions still have a few tricks up their sleeve. The next one, rolling out tomorrow, is on wheels, armed with a periscope, and aimed to delight.
Call it the evolution of the Occupy Bat Signal, the amazing projections that lit up the side of a New York skyscraper as OWS protesters streamed over the Brooklyn Bridge and engaged in call-and-response chants with the glowing messages last November. The Illuminator is a specially modified van designed to replicate some of the awe that the light projections inspired, but made available anywhere, anytime.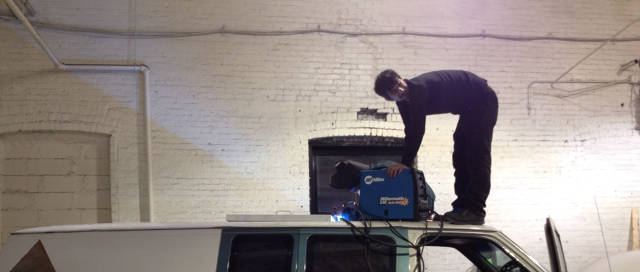 Mark Read, the activist/artist behind the Bat Signal, calls the Illuminator a full-service information disseminating vehicle, and he's pretty proud of it. By contrast, the Bat Signal involved a static projector stuck out of an apartment window.
"The van is super fucking cool, technically and aesthetically," he says. "There's a periscoping platform which tilts 45 degrees and swivels 360 degrees and emerges out of a cut hatch in the roof of the van, all of which required some real engineering."
"We had to buy a 1,500-watt inverter and a huge deep-cell marine battery in order to power the projector because it draws 1,000 watts," he says. "Essentially, we had to reconfigure the entire electrical system of the van. Christopher Hackett, the founder of The Madagascar Institute—which has a 15-year history of doing DIY, dangerous art spectacles—took the lead on all that."
So the projector can pop out, aim where it's needed, and repeat the Bat Signal experience. But it's also designed to be a street front presence at protests, kind of like a media kiosk, complete with fold-out bookcases for OWS materials.
"The bookshelves are amazing. They were designed and built by Gaylen Hamilton, also of Madagascar Institute. It's hard to describe, but the van has what you call "barn doors" on the passenger side. These open up, and the one on the left lies flat against the van and has a set of hinged shelves, so that the shelves kind of unfurl across the length of the van. The one on the right has magazine racks. It really is a mobile infoshop. We built the whole thing at Serett Metalworks, Josh Young's shop in Gowanus."
Read wanted to harness the high enthusiasm from the fall marches around New York despite the lack of a central gathering area now that Zuccotti Park has been cleared out.
"After we did the whole 99% 'Bat Signal' on November 17, that little escapade led me and my collaborators to think about having a mobile presence. It was sort of a wish more than a plan."
And support flowed in from unlikely places. "As luck would have it—or perhaps fate—Ben Cohen of Ben & Jerry's had a similar idea. He's been a really strong supporter of Occupy Wall Street and has been coming to meetings and has very much been on the ground and hands-on. He actually wanted to talk to me about putting together a 'Batmobile,' which is what we were calling this project for a long time, before we came up with a better moniker," Read says.
The initial plan was a five-car mobile sculpture parade for Occupy Wall Street, an earlier idea of Cohen's. The ice cream magnate was behind a "Bush Pants on Fire" vehicle back in 2004.
"[Cohen] came on as my partner in the Illuminator, but also in this bigger project that we're calling Mobilizers for the 99 Percent, which involves one other vehicle. It's the dynamic duo of the Illuminator and the Changemaker, which I should probably keep a little bit close to my vest. We'll probably be launching that in April," Read says.
"I'm doing this for a lot of reasons. To [let] people know that that the occupy movement is alive and kicking," he says. "The mainstream media on the whole tends to either ignore the very meaningful work that occupy activists continue to do, denigrate the movement as unfocussed, or demonize it as a bunch as violent anarchists."
He hopes a creative tack will change that.
"A primary objective of The Illuminator is to dispel the myths and distortions … There is thirst—a global thirst—for genuine democracy; for governments that truly serve the interests of the 99%, instead of the 1% who are most responsible for creating these crises. We will use all of our creativity, our energy, and collective spirit to bring about the kind of transformative social change that is so desperately needed at this time."
The Illuminator gets its public debut this Saturday, and though Read won't say precisely where it's going, you can guess. "We're gonna roll out on Saturday and inaugurate this project at a certain public-private park in downtown Manhattan that became the focal point of a recent global uprising."
Day one for the Illuminator is a tightly timed set of spectacles to be streamed online here at 7:28, 8:26, or 9:24 p.m.
"Our performance at 7:24 p.m. will include a radical lawyer friend of mine trying to keep us from getting in any serious trouble. After that we'll roll out to Brooklyn and do our thing in less contested spaces, creating a little spectacle everywhere we go."