Check Out London's New Protected Bike Lanes
A new cycling plan for the city sets the bikes away from speeding cars.
Hearing about London's bike superhighways is enough to create cycling jealousy around the world (except in Sweden, where they're working on their own). But as Streetsblog points out, they're often just to the side of busy streets, and can be quite dangerous. But now, the BBC is reporting on a new plan to bring protected bike lanes (the kind that rile up so much opposition in New York) to London.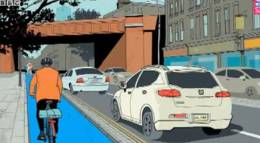 The most interesting part of the plan is to create "floating bus stops," which will eliminate the problem of buses and bikes being forced to occupy the same space. It's not quite the floating bike lanes that we've seen envisioned for London, but it's still a great biking step forward.